INEDIT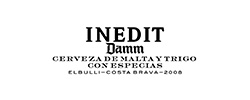 BEER
Brand Description
"Never Been Done Before"
The beer that complements your dining experience.
Uniquely brewed to create a complex aroma and opaque appearance, a floral nose leaves a sensation of fresh yeast and sweet spices.
It is a unique coupage of barley malt and wheat, flavored with coriander, orange peel and liquorice. Inedit is the first beer specifically created to accompany food. It is born from the conviction that a beer that could be paired with the utmost respect to the best cuisine was necessary. That is its aim and its virtue, and that is what makes Inedit different, special and unique.
Has been created by Damm brewmasters, heirs to a century-old tradition, and developers of highly appreciated beers, and by Ferran Adrià, Juli Soler and El Bulli's sommeliers' team.